The Inventors Network of the Capital Area™ (INCA) was founded over a decade ago by a small band of dedicated inventors. INCA's mission is to help new and veteran inventors network and share information in all aspects of inventing – the creative process, prototyping, patenting, and marketing. Since its founding, INCA has made great strides and currently hosts twelve meetings a year. These meetings cover a range of topics and speakers are invited from a variety of backgrounds to share their insights in the various aspects of inventing. Our Meetings page has more about our past and future speakers and discussion topics.
See below for more information on membership, our officers, history, and constitution.
Current INCA Officers & Contact Information
Krishna Paul, President
Viet Tran, Vice President
Dana Knowles, Treasurer, 304 676 2052
Glen Kotapish Board Member & Speaker Coordinator
Maurice Daniel, Board Member & Meeting Host, 703 960 9142
Victoria Closson Press Contact, 410 362 0468
INCA Officer Bios
Krishna Paul, President – Bio and contact information coming soon
Viet Tran, Vice President – Bio and contact information coming soon
Dana Knowles, is current Treasurer of INCA. She can be reached at danastuxedo@hotmail.com.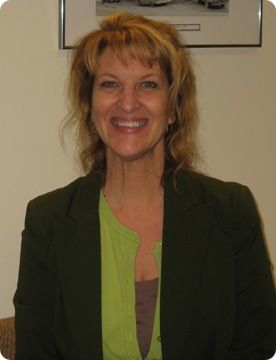 Dana Knowles, INCA Treasurer
Glen Kotapish, current Board Member and Speaker Coordinator of the Inventors Network of the Capital Area (INCA), is an inventor and founder of PlanetPatent.com, a professional patent research company. His passion is helping inventors avoid common pitfalls and inventor targeted scams. Glen is also interested in high and low-tech devices that help developing nations. His background is in aerospace manufacturing engineering. At General Electric (GE) he designed tools and process improvements saving money for GE and its clients. While working for a NASA subcontractor, he worked on cooling systems for the Hubble Space Telescope and satellite structures. He also has been a high school teacher and an EEG technician. Glen has written articles that have been published in Inventors' Digest magazine and at www.cafezine.com. He is a member of the Patent Information Users Group and he enjoys traveling, flying, scuba diving, and freelance writing. Glen currently serves as INCA webmaster and INCA Google Group moderator. He is also marketing and technical consultant to the Fab Lab Baltimore at the Community College of Baltimore County, Catonsville, Maryland. Glen can be reached at ipatent@aol.com.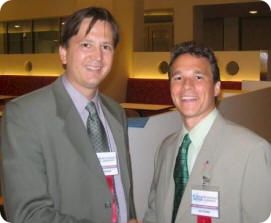 " Glen Kotapish, current INCA Board Member, and Jon Dudas, Under Secretary of Commerce for Intellectual Property and Director of the United States Patent and Trademark Office (USPTO), at the USPTO's 10th Annual Independent Inventor Conference. "
Maurice Daniel, Board Member and Meeting Host, is a prolific inventor and physics enthusiast.
Early History of the Inventors Network of the Capital Area (INCA)

Author: Maurice Daniel, former INCA President
Date of Publication: June 17, 2005
November 1983
Greg Micek, at a meeting held at the University of Houston, proposes starting an inventors group in Houston Texas. This idea becomes the start of the Houston Inventors Association (HIA).
May 1993
Charles (Chuck) F. Mullen, Chairman of HIA¹s Board of Directors, proposes to form a sister group in the Washington, D.C. Area.
June 5-6, 1993 Chuck F. Mullen with the assistance of HIA member Bill Ash fly to Washington D.C. and attend the National Inventors Conference and Expo put on by the Patent and Trademark Office and the Intellectual Property Owners (IPO).
June 7, 1993
Chuck F. Mullen and Bill Ash give talks at the Lemelson Center in the Smithsonian History Museum promoting the formation of an inventors group in the Washington, D.C. area to be named the Capital Inventors Society (CIT). The third speaker is National Institute of Standards and Technology (NIST) Director Mr. George Lewutt talking about the support given to energy related inventors by NIST. This first meeting of CIT attracts 89 area inventors and seven representatives of invention-related Government Offices including Don Kelly and Fred Hart.
July 19, 1993
The second meeting of CIT is held at the U. S. Patent Office, 2121 Crystal Drive, Crystal Park II, Room 912, Arlington, VA. Featured speakers include Patent Office Directors Donald Kelly, Anne Kelly, and Jay Lucas covering services offered by the PTO and innovative patent searching techniques. Networking discussions began at 5:30 p.m. and the presentation began at 6:30. The first CIS Newsletter appears at this meeting. There is no mention of elections, nor do I recall elections of CIS officers at any of the early meetings. I believe officers were appointed by Chuck Mullen during the first year or two. The officers chosen were:
Chuck Mullen – Chairman of the Board of Directors of CIS
Bob Lincoln – President of CIS
Martin Keller – Vice President of Operations
August 16, 1993
The third meeting of CIS held at Virginia¹s Center for Innovative Technology (CIT) at the end of the freeway to Dulles Airport. The meeting was hosted by Dr. Jack Heinemann of CIT. The speaker was Dr. Robert Kearns, who had won $19.8 million from Chrysler for patent infringement on his intermittent windshield wiper. The meeting had media coverage by two local TV stations with over 60 inventors attending. Also in attendance, representing supporting agencies and organizations were:
Dr. Lance Liotta – Deputy Director of Research of NIH
Dr. Michael Fordis – Office of Education at NIH
Don Kelly – Patent and Trademark Office Fred Hart – National Institute of Standards and Technology
Richard B. Frank – Technology Advancement Program at University of Maryland
Ada Winters – Intellectual Property Owners Association
Jim Ball – Representing the Department of Energy (DOE)
September 20, 1993 The Fourth meeting is held at the National Institutes of Health (NIH) Building 31C, Conference Room 6, 9000 Rockville Pike/Wisconsin Ave., Bethesda, MD 20892. The NIH location becomes the first permanent home for the CIT meetings. The speakers were Donald Banner, past president of the Intellectual Property Owners Association and former PTO Commissioner, debating Herbert Wamsley, Executive Director of IPO on the First-to-File harmonization legislation.
October 10, 1993
The speaker at the Fifth CIT meeting was Richard Levy (toy inventor) speaking about the marketing of inventions.